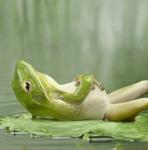 papafrog
PXP / Rank
4828 ·

Adventurer

?

Location
U.S, Oklahoma
Special Ability
nothing too special
Player Experience Points (PXP)
You automatically gain PXP by playing in Fabletop sessions.
You earn more by being the GM, and playing in larger groups.
It is updated up to an hour after each session.
Profile Ranks
| | |
| --- | --- |
| 0 | Apprentice |
| 100 | Wanderer |
| 1000 | Adventurer |
| 5000 | Hero |
| 10000 | Avatar |
| 20000 | Legend |
| 30000 | Immortal |
Close Window
About
Characters 30
Treasures 9
Followers 201 / 28
Membership

Advanced

Joined
06.11.2015
Last Visit
07.08.2020
XP Recv'd
32
XP Given
725
I normally like to play with only my friends, mostly because there are a bunch of a-holes on the internet. I play a lot of video games, ive never played a dnd session but ive tried to immitate it using other board games. i often like playing as the dungeon master or board master because it allows me to tell a story, now i may not be the best at it but its something i love to do, and a lot of the people i show my stories to think that im a pretty good storyteller. and with games such as dnd and well this site, i can do more than just tell a story, because if its something i love more than storytelling, its interacting with the story, living it, being a part of it. thats why i like games like dnd and this site, cause i can make a story and you guys can interact with it. However, i am new to the whole dnd kinda thing so go a little easy on me and dont be total d****.
| | |
| --- | --- |
| Followers: 201 | Following: 28 |
| | |
| --- | --- |
| | Beta Tester |
| | Completed Profile |
| | Wanderer - 100 pxp |
| | Adventurer - 1,000 pxp |
| | |
| --- | --- |
| | 10 Followers |
| | 50 Followers |
| | 100 Followers |
| | Following 10 GMs |
| | Played with 5 GMs |