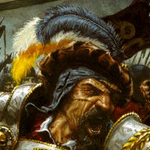 palegeon
PXP / Rank
25482 ·

Legend

?

Location
Illinois
Special Ability
Strategy & Tactics
Player Experience Points (PXP)
You automatically gain PXP by playing in Fabletop sessions.
You earn more by being the GM, and playing in larger groups.
It is updated up to an hour after each session.
Profile Ranks
| | |
| --- | --- |
| 0 | Apprentice |
| 100 | Wanderer |
| 1000 | Adventurer |
| 5000 | Hero |
| 10000 | Avatar |
| 20000 | Legend |
| 30000 | Immortal |
Close Window
About
Characters 14
Treasures 12
Followers 298 / 21
Membership

Advanced

Joined
05.11.2013
Last Visit
10.24.2022
XP Recv'd
916
XP Given
1646
Quote: "The general who advances without coveting fame and retreats without fearing disgrace, whose only thought is to protect his country and do good service for his sovereign, is the jewel of the kingdom." Sun Tzu

The names Pal. I'm a role-player, gm, and casual gamer.

I play primarily Medieval style games, though can get hooked to sci-fi. My play style is a mix of talk and action with combat a close concern. When hosting, my games tend to be long, technical, and sprinkled with odd humor. I dedicate time to create unique and nice looking maps as well as decent foes. However I am lacking coherence and haste when under pressure while gming or playing.

In terms of the field I have played and observed on Fabletop for 3 years, independently on Kongregate RP channels for two, played and understood SW Saga Ed, and other RPG related resources. My strength in gaming comes primarily from writing and rewriting my own rules as well as helping others on site from time to time with structure.

I am usually available during the nighttime 11PM to 6AM Central Standard Time (6-11AM GMT), mostly on weekends; when not pursuing other games or doing important business.
| | |
| --- | --- |
| Followers: 298 | Following: 21 |
| | |
| --- | --- |
| | Beta Tester |
| | Completed Profile |
| | Wanderer - 100 pxp |
| | Adventurer - 1,000 pxp |
| | Hero - 5,000 pxp |
| | Avatar - 10,000 pxp |
| | Legend - 20,000 pxp |
| | |
| --- | --- |
| | 10 Followers |
| | 50 Followers |
| | 100 Followers |
| | Following 10 GMs |
| | Played with 5 GMs |