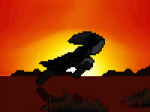 duskwolf
PXP / Rank
1980 ·

Adventurer

?

Location
Southern California
Special Ability
I heal with Fire
Player Experience Points (PXP)
You automatically gain PXP by playing in Fabletop sessions.
You earn more by being the GM, and playing in larger groups.
It is updated up to an hour after each session.
Profile Ranks
| | |
| --- | --- |
| 0 | Apprentice |
| 100 | Wanderer |
| 1000 | Adventurer |
| 5000 | Hero |
| 10000 | Avatar |
| 20000 | Legend |
| 30000 | Immortal |
Close Window
About
Characters 68
Treasures 8
Followers 27 / 39
Membership

Advanced

Joined
06.02.2012
Last Visit
12.07.2017
XP Recv'd
361
XP Given
7
I have only done a real table top game once, but I have been role-playing online for the last 5 or 6 years. Been trying it in MMOs, Play by Post forms, and MUDs but there always seems to be something off. I love the idea with this it seems simple but with the structure to really have something happen.

In real life I am working on becoming a Paramedic/Firefighter and right now I have an EMT job so my schedule is very random. So some days I am completely free and some I am completely busy. I hope to track some of you others down on my free days.

On a side note before the firefighter track I was studying web design. Also, I have some skills with photoshop so if any one needs any help with that kinda stuff just let me know.
| | |
| --- | --- |
| Followers: 27 | Following: 39 |
| | |
| --- | --- |
| | Beta Tester |
| | Completed Profile |
| | Wanderer - 100 pxp |
| | Adventurer - 1,000 pxp |
| | |
| --- | --- |
| | 10 Followers |
| | Following 10 GMs |
| | Played with 5 GMs |
| | Played with 10 GMs |