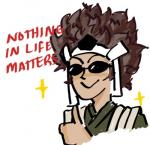 kvothe712
PXP / Rank
10535 ·

Avatar

?

Location
Titan
Special Ability
What do you do?
Player Experience Points (PXP)
You automatically gain PXP by playing in Fabletop sessions.
You earn more by being the GM, and playing in larger groups.
It is updated up to an hour after each session.
Profile Ranks
| | |
| --- | --- |
| 0 | Apprentice |
| 100 | Wanderer |
| 1000 | Adventurer |
| 5000 | Hero |
| 10000 | Avatar |
| 20000 | Legend |
| 30000 | Immortal |
Close Window
About
Characters 39
Treasures 10
Followers 18 / 13
Membership

Advanced

Joined
08.28.2014
Last Visit
05.12.2017
XP Recv'd
447
XP Given
631
I host when I feel like it, usually on for a few minutes every day. Usually I host more medieval based games, and I usually use ideas from books (I could come up with my own stuff, but since I love books so much and I want more of the books that I REALLY like I tend to base stories off of them. But don't worry, I tend to add my own twist). I also love to play, so when I am hosting there are going to be plenty of NPC's, and when I'm not hosting I'm either on steam or in someone else's game (frequent player on daretobe's table, cthdragon's table, sometimes on woolyfsh2's table). My irl friends include (but are not limited to): daretobe, cthdragon, rakoe, xrunisx, and lunarblade. Saturdays I'm at a D&D meet, so I won't be on ft during that.
| | |
| --- | --- |
| Followers: 18 | Following: 13 |
| | |
| --- | --- |
| | Beta Tester |
| | Completed Profile |
| | Wanderer - 100 pxp |
| | Adventurer - 1,000 pxp |
| | Hero - 5,000 pxp |
| | Avatar - 10,000 pxp |
| | |
| --- | --- |
| | 10 Followers |
| | Following 10 GMs |
| | Played with 5 GMs |
| | Played with 10 GMs |