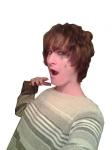 iamayen
PXP / Rank
627 ·

Wanderer

?

Location
Der USA
Special Ability
Ayanicity
Player Experience Points (PXP)
You automatically gain PXP by playing in Fabletop sessions.
You earn more by being the GM, and playing in larger groups.
It is updated up to an hour after each session.
Profile Ranks
| | |
| --- | --- |
| 0 | Apprentice |
| 100 | Wanderer |
| 1000 | Adventurer |
| 5000 | Hero |
| 10000 | Avatar |
| 20000 | Legend |
| 30000 | Immortal |
Close Window
About
Characters 9
Treasures 5
Followers 10 / 7
Membership

Advanced

Joined
06.10.2014
Last Visit
03.23.2015
XP Recv'd
82
XP Given
75
My name is Aya, I make music (ask me how to get some of it for FREEEeeeee). I also create role playing systems, and am always looking for play testers for my systems.

I am different, I am an Aya. My sessions are usually very freeform, rules light and very RP oriented. When I host games, I prefer to host the session in a way that satisfies my players. Even in large groups, if you let me know you want a little more fighting, puzzle solving, roll playing or whatever, I will change it up a bit for you.

I also host solo sessions, if I am not on, message me. If I am free I will host a game. Sometimes I am working while I host, so during those times games will flow a bit slower (not so much with groups, mostly with solo sessions).
| | |
| --- | --- |
| Followers: 10 | Following: 7 |
| | |
| --- | --- |
| | Beta Tester |
| | Completed Profile |
| | Wanderer - 100 pxp |
| | |
| --- | --- |
| | 10 Followers |
| | Played with 5 GMs |