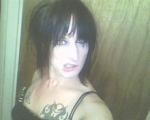 aya777
PXP / Rank
381 ·

Wanderer

?

Location
valhalla
Special Ability
rainbow ball throwin
Player Experience Points (PXP)
You automatically gain PXP by playing in Fabletop sessions.
You earn more by being the GM, and playing in larger groups.
It is updated up to an hour after each session.
Profile Ranks
| | |
| --- | --- |
| 0 | Apprentice |
| 100 | Wanderer |
| 1000 | Adventurer |
| 5000 | Hero |
| 10000 | Avatar |
| 20000 | Legend |
| 30000 | Immortal |
Close Window
About
Characters 9
Treasures 5
Followers 17 / 7
Membership

Advanced

Joined
11.16.2015
Last Visit
11.03.2017
XP Recv'd
86
XP Given
20
I am a well educated woman, married to a woman and a huge fan of Jesus Christ. I find it so amazing how he hung out with the sinners. I take refuge in the fact that if he were here now on Earth, he would be hanging out with me instead of any super hardcore christian website admins that were perfect christians. He loved to help those who needed it.

That is sooo freakin cool, you know? Although, I suppose that those who call themselves christians yet harbor hate for those who need Christ's light the most would probably get him to hang out with them over me. You know, cuz Jesus was kinda anti-hate.

But the BEST THING ABOUT JESUS EVER IS THAT IF HE WERE ON EARTH RIGHT NOW I FRIGGIN GUARANTEE THAT HE WOULD BE TOTALLY DOWN WITH A SESSION OF D&D!

jESUS IS A LEVEL GOD CLERIC!
| | |
| --- | --- |
| Followers: 17 | Following: 7 |
Ayarr

the Battlemage of Durex

32 xp

GM:

dori
Aykharambe

the Roguish Warrior

20 xp

GM:

sumdonkas
ScrappyDoo

the Freelance Detective

15 xp

GM:

dori
Saya

the Warrior Cleric

8 xp

GM:

nikitaw99
Saya

the Roguish Rogue

5 xp

GM:

bonechewer15
Derple

the Mystical Warrior

5 xp

GM:

qtip
Aya

the Nature Worshiping W

1 xp

GM:

tailoz555
Aya-Ay

the Warrior Gymnast

0 xp

GM:

stonewolf18
Alice

the Resistance Leader

0 xp

GM:

aya777
| | |
| --- | --- |
| | Beta Tester |
| | Completed Profile |
| | Wanderer - 100 pxp |
| | |
| --- | --- |
| | 10 Followers |
| | Played with 5 GMs |